The Pen and Inkpot Foundation is a 501C3 non-profit charity endowment in the USA. It is a national, international and local endowment building a Sustainable world by empowering humans through sustainability, educaton and the Arts towards a social consciousness. All funds received for The Pen and the Inkpot Foundation are strictly used to support its Mission Projects based on its core values. Read disclaimer here. Tax ID #: 26-309-1936
ŠThe Pen and Inkpot Foundation 2008-2017. aka - Pi Foundation. Read copyright information here.
EVENTS
International Travel Scholarship with IUPUI
We have two new projects we are building!
Thank you to all who support the Foundations work!
Art, Poetry and Essay book Publication Available, Publication: September 2011
Art of pen and Inkpot: proceeds fund Pi Foundation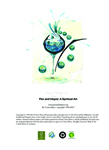 A charity founded on stewardship, bridge building and planting the seeds of common ground with the principles of Giving with justice, compassion, balance and God consciousness, inclusive to all people and our environment, through Sustainable Stewardship of Green Value, Education with scholarships and workshops, a socially conscious Islamic Art and knowledge, or the pen.
It is called S.E.A.K.