10lb white flour,
10lb bag basmati rice,
1gal vegetable oil,
10lb sugar,
2-100 packet tea,
4lb pasta,
4lb dry chick peas,
one clothing basket,
4 can tomato paste,
1 bottle juice, and
fresh dates.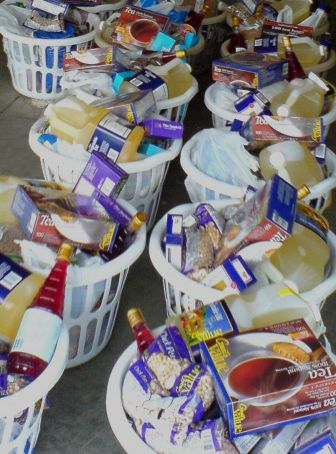 Iftaar for Human Dignity Baskets 2008
Project by The Pen and Inkpot Foundation

We are pleased to inform you of another great charitable effort done in the Fort Wayne community during this blessed month of Ramadan. "Iftaar for Human Dignity": a Ramadan food drive to help the needy. It started on Tuesday, September 2nd, 2008 -second day of Ramadan. This great effort was an initiative of sister Uzma Mirza and her organization, "The Pen and Inkpot Foundation," which collaborated with the MAI Women's Fund. The Pen and Inkpot Foundation is a Muslim based non-profit organization doing philanthropic (humanitarian) work nationally, internationally and locally. The mission statement of both organizations focused on meeting the needs of indigent Muslim and non-Muslim families in the inner city of Fort Wayne. Although the Iftaar for Human Dignity project was first conceived as a drive to provide one meal for fasting Muslims which is generally required by Muslims who cannot fast, that day, for specific reasons of illness, sickness or travel or perhaps medical reasons, it has since grown exponentially. "The Iftaar Baskets we prepare are filled with various raw ingredients basic to preparing meals for a fasting family of 4-5 members to last one month". Hence, The Iftaar for Human Dignity Baskets drive began…
One Basket:
Each basket distributed contained:
The story begins a few weeks before Ramadan. As Uzma Mirza elaborated: "After my move from Chicago, I was contemplating how best to serve the community. Although the vision is much more comprehensive, I decided to meet the most urgent needs first; feeding those in need of food. On August 18th, there was an article in The News Sentinel showing a woman in her kitchen, with nothing in the refrigerator. The article explained that for weeks her child drank only water as there was not milk in the home. The article did not state whether the woman was Muslim, Christian or Jew it was simply a member of Humanity in need. An "Iftaar for Human Dignity Basket" was born out of necessity. We are to help our neighbors in need, and it does not matter what their religious backgrounds or ethnicities maybe. Ramadan is a month of giving, mercy, forgiveness and self reflection. A month, which teaches self restraint from things as back biting, gossip, physical appetites and anger, through the appetite of the stomach. To realize the plight of the poor and those in need. To self reflect our own reality and our ultimate need. A month of giving not only monetarily, but with our spiritual and physical self. It's charity just like a smile is a charity".
The volunteers who helped purchase, prepare and distribute these Iftaar Baskets faced many unique challenges in their work. On September, 4th Uzma Mirza wrote, "In the beginning when we started the drive we were getting frustrated, as to who to give since there are so many needy in the inner city of Fort Wayne Indiana, and that's just the Muslim families. Nevertheless, we delivered another 17 baskets, which makes it a total of 34 baskets. Alhamdulillah. The rain storm set us back yesterday, though rain is a blessing in itself. Today the Imam of the Burmese Mussallah helped us locate the most needy and took us to the district where 45 new refugee families have recently arrived. However, every time we go we are overwhelmed by the number of Burmese refugees that have been brought. And we still haven't hit the other ethnicities. Yes they need to be empowered and taught English so they do not get used to 'hand outs', but during Ramadan 'giving' is an essential component of fasting, and to realize there are people in our own community, who are needy, yet they live life with a big smile, and seem richer than those who have been given more, which is a blessing. To be able to give to the needy is a blessing from God as it is equally a blessing for the person who receives. We should be thankful to God and to those people who give us the opportunity to be able to give sadaqah or Fidiya, because of their need which is a blessing."
By September 6th 67 baskets were successfully distributed; by September 11th 105 Iftaar Baskets, and by September 13th 123 Iftaar Baskets and by the end of Ramadan a grand total of 169 baskets have been distributed. This accounts for over 600 people, since each basket accommodates up to 4-5 individuals. Special consideration was given to families with more than five members in a household. It is important to mention here that this project is still ongoing, and volunteers are reaching Muslims with other ethnic backgrounds besides Burmese.

As a final note, Uzma Mirza emphasizes: "What I would like the Fort Wayne Islamic Community to understand is although these baskets were made to help the Muslim families in need during the month of Ramadaan, we cannot turn our backs on their Christian and Buddhist neighbors. Some of these "People of the Book" have helped us in the delivering of these baskets. In addition, all of them are being neighbors to one another. In my experience in delivering these baskets, I have found some Christians teaching the Muslims English while they are learning Burmese. I have found some Buddhist showing much concern for their Muslim neighbors and have helped us reach those most needy. We are trying our best to follow the Qur'an and the Sunnah of our beloved Prophet Muhammad (pbuh). Ramadan is about being inclusive and not exclusive-a practice of the Prophet Muhammad (pbuh). We are trying our best. We are trying, but we don't want to hurt anyone. Please include us in your prayers while we are on this journey. I am hopeful that the entire community will see this as a positive effort and not one which incites animosity in the community specifically amongst the Burmese and their neighbors".
Brother and sister volunteers who assisted in making this project a reality are many and are listed below but are not limited to: Malikah Abdullah, Shahnaz Mirza, Hajira Khan, Gohar Salam, Shaheer Siddiqui, Safia Lakhany, Reema AlKhairy, Nabila Chaudhry, Noreen Raza, Bilal Sajid, Maha Sajid, Amina Advany, Osman Seyyid, Mahvish Shabir, Guria Shabir, Mecca Abdullah, Mariam Goma, Hagar Goma, Amani Goma, Said Goma, Ibrahim Goma, Saad Ghazali, Danish Ghazali, Danyal Irfan, Sameera AlKhairy, Sara AlKhairy, Ladan Abbasia, Sohrab Horani, Deena Horani, Aisha Ahmad, Andaz Ahmad and all who donated generously. Thank you!
Mirsad Maglajlic-Fort Wayne Islamic News, Fort Wayne, Indiana
Editor

*Article published: Fort Wayne Islamic News, Fort Wayne, Indiana 2008 USA
(A shorter version was published in the Fort Wayne Islamic Newsletter, Fort Wayne, Indiana October 2008)